Inactive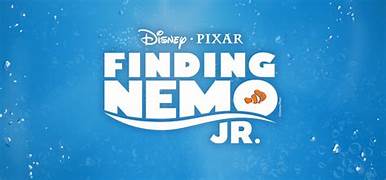 One-Day Summer Mini-Camp
Saturday, July 8th
10 AM to 4 PM – with a short presentation for families at 4 PM!
Price: $25/camper
Registration for the One-Day Mini-Camp is closed.
Click below for Audition and Show Information for our next show – Finding Nemo, Jr!
Click here for Audition and Show Date Information!
---
Here is a link to one of the songs from Finding Nemo, Jr…enjoy!
---
Take a plunge into the world of Finding Nemo, Jr The Musical!
This one-day introduction to Irving Youth Theatre will focus on:
Collaboration and teamwork
Learning a song and dance from Finding Nemo, Jr to present to families at the end of the day
---
FAQ's
Registration for the One-Day Mini-Camp is closed.
Does my child need theatre experience to participate?
No – this is an introductory/exploratory mini-camp to introduce young people to Irving Youth Theatre and the possibility of being a part of our next musical.
What should my child wear?
Comfortable clothes they can move in – preferably blue, black or green shorts and a t-shirt. Tennis shoes are better to dance in than sandals, flipflops or Crocs.
Will you provide food?
Irving Youth Theatre will provide snacks and a lunch break – but each camper should pack a lunch that does not need to be refrigerated or microwaved – think picnic or "brown bag." **It is important to stay hydrated! Bring a plastic (no metal or glass) water bottle labeled with your child's name**
What if we can't pay $25 per child?
Contact us at [email protected] to discuss scholarship options.
What if I'm in high school, college or beyond?
We'd love to have your help being a camp counselor (working with smaller groups of kids to help them learn the song/dance and play games, etc.) or help with monitoring or providing snacks. Fill out the registration form and select where you'd like to volunteer!
---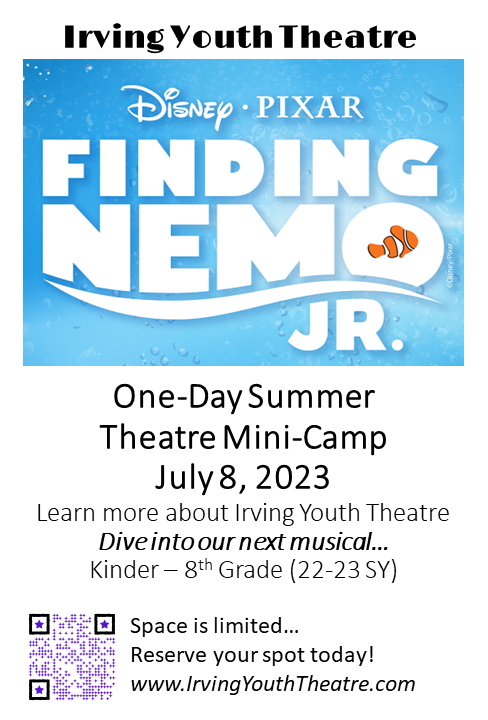 Registration for the One-Day Mini-Camp is closed.